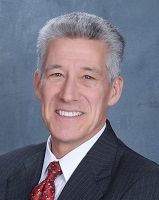 Michael Graham, Financial Advisor
For over 30 years, I have had the opportunity to help my clients reach for their financial goals. Whether you live in Virginia, Maryland, or across the country, I am interested in helping you, too.
You are welcome to call me any time at (703) 931-2883 to discuss your personal goals and schedule a free confidential consultation with no obligation. If you prefer, you can also send me an email through the "Contact Us" tab so we can set a phone or office appointment with you.
We are accepting new clients with investable assets of $50 thousand to $50 million and anywhere in between!
I will provide experienced, professional investment advice to you on:
401k and IRA Rollovers
Retirement Planning
Asset Allocation Strategies
Mutual Funds
Individual Stocks and Bonds
Variable and Fixed Annuities
Small Business Retirement Plans (SEPs, SIMPLE IRAs)
Health and Life Insurance

Our initial financial planning process is 3 short steps:
First, you and I develop a plan together that identifies your goals, investment time frame, and risk tolerance level.
Second, I'll provide the expertise to recommend investments specifically for you with balance, diversification, and risk management as key components.
Third, we'll discuss and implement the actions necessary to try to fulfill your plan.
That's it from start to finish ... straightforward and uncomplicated.
And my ongoing commitment to you, once we've got your financial plan started, we'll speak or meet regularly to discuss your investments and update any changes to your financial situation or goals.
Call me to get started and together we'll try to reach your financial goals!
For more information regarding my background and our services to you, please click on the "About Us" and "Profile" tabs above.
For more information about our LaSalle Asset Management Program (LAMP) and our investment management fees, please click on the "About Us" tab above.
Please keep in mind, investing does involve risks, including the potential for principal loss. Diversification and asset allocation do not assure a profit or guarantee against loss.
(Only residents of the states shown in the drop-down box are eligible.)